Attendees enjoyed breakfast during the roundtable. Credit: Shasta Muniz on behalf of Axios
On Thursday, November 2, Axios hosted an Expert Voices roundtable discussion in Albuquerque, New Mexico featuring leaders in health care across state government, nonprofit organizations, care providers and academia. Guests discussed the main barriers and potential solutions to addressing issues impacting health care access and quality in New Mexico. Axios senior health care editor Adriel Bettelheim led the conversation.
On supporting and investing in New Mexico's health care systems
Attendees shared their perspectives on potential solutions to several different challenges impacting health care in New Mexico, from access to broadband and responding to Medicaid unwinding processes to implementing new funding programs for rural health care delivery in the state.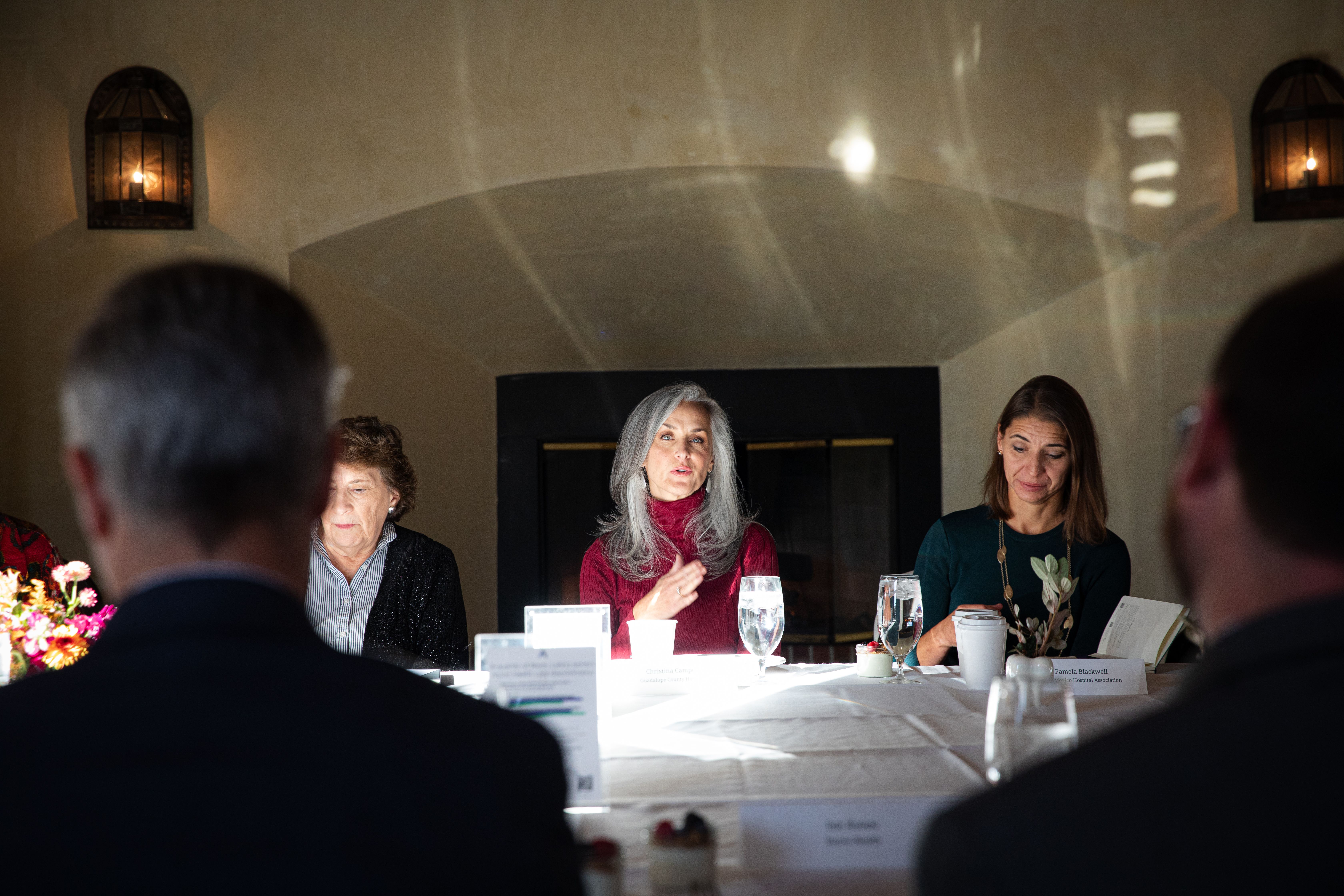 Guadalupe County Hospital's Christina Campos speaking to the roundtable group. Credit: Shasta Muniz on behalf of Axios
Pamela Blackwell, New Mexico Hospital Association director of government relations & communications: "We have been supportive of broadband efforts for the reason to increase access but also to increase access to educational programs to train new health care professionals in their home communities so that they do not have to leave their home community to get their education. Most of the workforce that we need, they're older, they're adults, they're caring for children or elders, so broadband can be a way to expand our health care workforce pipeline and increase telehealth."
Dr. Abinash Achrekar, University of New Mexico executive vice chair of medicine: "I think what we're seeing here in New Mexico is the unwinding is obviously going to increase our uninsured population. The good thing about the state of New Mexico is many of those that are going to become or are already uninsured are eligible to re-enroll. Many states that are surrounding us that did have Medicaid expansion are beginning to unwind but don't have a plan to re-enroll those individuals."
Sen. Elizabeth Stefanics, New Mexico State Senator: "The one area in my mind that we really haven't addressed yet is enough home-based care, and that includes home care after there's a diagnosis. Because some people have had to leave their rural communities to go to urban centers, and actually fully move in order to receive the ongoing care. So that's a really short synopsis of the Rural Health Care Fund."
Christina Campos, Guadalupe County Hospital administrator: "But with this program…it didn't take effect until September 1. We lost $40,000 in July, we lost only $10,000 in August. We made with this program $98,000 in September, and we still have to see what's happening going forward and then we want to expand some programs. But the difficulty in rural areas is that you don't have an economy of scale, and you have to be so careful that anything that you expand to doesn't actually drain you more than it helps you."
Lou Volk, president & CEO, Delta Dental of New Mexico: "Our goal, our ambition, is oral health care and overall health care improvement in our organization, and to be part of the community. We are able to leverage resources, expertise, assets from other Deltas, other states, and also from the national office."

Thank you to the Delta Dental Institute for sponsoring this event.